Ryan Waters and Eric Larsen- From Denver to Jabu Rii Summit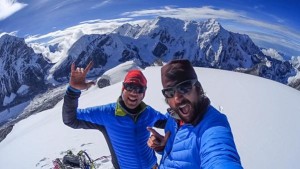 Photo Credit: CBS local, Denver
In the wake of recent earthquakes in Nepal, majority of tourists around the world are understandably waiting to see how the rebuilding of the Himalayan country goes before deciding either or not to visit Nepal.
However, the earthquakes did not stop two Americans climber to attempt and climb a Nepalese mountain never before climbed. Ryan Waters and Eric Larsen from Boulder, Colorado entered the record books on September 16, 2015 when they became the first ever climbers to summit Mt. Jabu Rii. The 6, 147 m peak was among the highest unclimbed peaks in the world.
After turning their lifelong dream of climbing a Himalayan mountain, Ryan and Eric are back home and spreading their wonderful stories hoping their stories would help this small tourism based economy recover from the recent devastation.
Ryan Waters says CBS Denver that the structure is still in place and Kathmandu is fine before further stressing that Tourism is such a big part of the Nepalese economy. He is sure that if the right opportunity came up, he would love to go back to Nepal.
We are fortunate to have guests like Waters and Larsen who love Nepal and are doing their best to help Nepalese tourism recover from the recent setback. We tip our hats to your marvelous effort and achievement, Ryan Waters and Eric Larsen! You guys are always welcome to our beautiful country.
See their video here as reported by CBS Denver.